An ounce of prevention is worth a pound of cure. - Benjamin Franklin
Eating has long gone from a necessity to an experience that ought to be enjoyed every time! Eating well gives unparalleled joy and creates a bond of goodwill and companionship. Food safety should always be the top priority for every catering service. There is a reason the catering business is part of the hospitality industry; you cannot ignore the most important aspect of hospitality- taking care of your guests! Food safety is ensuring the best quality products are used accompanied by great service simply to show how much you genuinely care about your guests. Also, you run a big risk of tearing down your own business due to negligence if you disregard food safety, as it would take just one sick customer with a social media platform to ruin your reputation and credibility. Restaurant and catering food safety procedures have the same basic guidelines, except that you also have to take care of aspects like transport in catering.
Here are 5 strategies that help to improve food safety in catering services:
1. Start from the source
If you get this first step right, then a major part of your job is done. Always make sure that the food you use (vegetables, fruits, meat, dairy, and even packaged foods) are fresh. Always ensure that your suppliers follow FSSAI guidelines. Buying farm-fresh or organic produce is a great option. Always check the manufacturing, expiry and use by date of all items being used. We, at Soul Chef always take utmost care to bring the most fresh and best quality food to the table. Once that is out of the way, we work to make sure you have an unforgettable culinary experience.
2. Prepare with care
Proper food preparation is something Soul Chef prides itself in. Separation of foods to prevent cross contamination is one of the biggest concerns in food handling. Raw meat must be stored separately from cooked foods. Do not use same chopping boards for vegetables and meat. Always disinfect and wipe down cooking and prepping surfaces after handling raw foods. Wash all equipment in hot, soapy water before each use. Keep washing your hands frequently. Dispose your gloves after each use. Do not prepare foods hours before the actual event. If food is left outside for long or starts to show signs of spoiling, do not use it even if it looks and smells fine as it can make people sick. Always cook food to the right temperature.
3. Stay on track with proper storage and transport
Food should never be left out of the refrigerator in the temperature zone of 4-60°C for more than 2 hours. After 2 hours, it needs to be discarded as it is not safe and cannot be reheated or refrigerated. Eating such food leads to food poisoning. Make sure food is stored at correct temperatures in air-tight containers. Keep meat and poultry at the bottom shelf of the fridge to prevent any drips onto other foods. During transport, hot and cold foods must be stored at the proper temperature. Soul Chef makes sure that the food is in top condition when it reaches the venue. Our transport vans are always kept clean in pristine condition.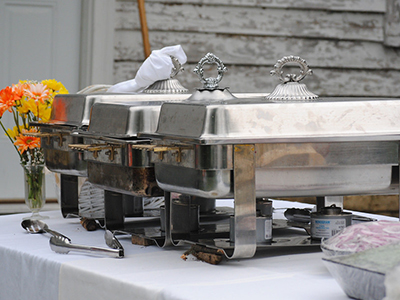 4. Service is sacred
Most caterers maintain a hygienic kitchen and serving station, but when things get a bit hurried, sometimes hygiene can slip in favour of fast service. However, it is essential to wash hands frequently, clean the surfaces often, and make sure all the dish cloths and tea towels being used are washed regularly. Make sure the glasses, serving plates, spoons& bowls, cooking pots and pans, and everything that will be in contact with guests and the caterers is clean. All our staff at Soul Chef is dedicated to ensuring the best service while adhering to the strictest hygiene norms.
5. Train your team
Working in the food industry means daily exposure to hazards like sharp knives, hot water, and boiling oil. This makes it imperative to always be prepared for an emergency. Have first aid stations with adequate first aid supplies for your staff and guests to improve food safety. If any of the workers who are responsible for preparing the food get injured, ensure that they get immediate attention and proper care and are away from areas of food preparation. Soul Chef has made a habit of discussing food safety protocols on a routine basis with all our employees. It helps to ensure that everyone has access to the necessary hygiene products like disposable gloves and hair nets.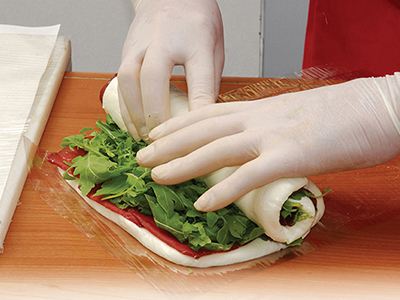 Adopt these simple strategies to ensure food safety and you will have zero complaints to worry about. We at Soul Chef assure excellent food quality and flawless service to set unbeatable standards in the catering scene in Mumbai. A little extra care can go a long way in ensuring a successful event and making sure your guests leave the event feeling satisfied and happy.