Food safety needs to become the culture, Not just a practice or program.
Good food plays an important role in bringing people together. Catering is an integral aspect to ensure the success of any event or celebration. It is not just enough to simply cater an event, you need to cater to the needs of all your guests and ensure that they have a good time.
Buffets are one of the most preferred serving practices in catering. They are easy to implement and an affordable option for a large event. Self-service for a lunch or dinner event is an excellent option for large crowds as everyone can customize their own meals, decide their own portions based on their own appetites, and best of all, avoid the hassle of clearing away the used dinnerware!
The most important aspect of catering is ensuring food safety. No one wants complaints from disgruntled guests during the event or dozens of sick guests afterwards. The first thing to ensure is proper crowd management and easy movement of guests. Soul Chef has always given utmost importance to food safety and hygiene practices for buffets and events.
Here are a few tips to maintain food safety:
1. Careful preparation
Soul Chef prides itself on proper food preparation. Cross contamination is one of the biggest concerns in food handling and can be prevented by separation of foods. Always store the raw meat separately from cooked foods. Avoid using same chopping boards for vegetables and meat. Make sure cooking and prepping surfaces are disinfected and wiped down thoroughly after handling raw foods. Wash all equipment in hot, soapy water before each use. Wash your hands frequently and dispose your gloves after each use. Do not prepare food hours before the actual event. Food left outside for long starts to show minor signs of spoiling which might go unnoticed without proper attention. Do not use it even if it looks and smells fine as it can make people sick. Always cook food to the right temperature.
2. Proper storage and transport
Food should never be left out of the refrigerator for more than 2 hours. After 2 hours, it cannot be reheated or refrigerated and needs to be discarded as it is not safe. Consuming such food causes food poisoning. If you are preparing some food beforehand in your kitchen, away from the venue and then transporting it there, store hot and cold foods at the proper temperature. Soul Chef makes sure that the food is in the best condition when it reaches the venue. Our transport vans are always maintained in pristine condition and cleaned regularly.
3. Clean cutlery
Make sure the cutlery, glassware, serving plates, cooking pots and pans, and everything that will be in contact with guests and the caterers is clean. This is crucial to ensure that the guests enjoy the delicious food without being put off by unclean cutlery.
4. Staff uniform and first aid
All the staff included in cooking and serving must have proper clean uniforms. Everyone should have access to the necessary hygiene products like disposable gloves and hair nets. Soul Chef has made a habit of discussing food safety protocols on a routine basis with all our employees. If any of the workers who are responsible for preparing the food get injured, ensure that they get immediate attention and proper care and are away from areas of food preparation to avoid contamination of surfaces and food. The Soul Chef staff is dedicated to ensuring the best service while adhering to the strictest hygiene norms.
5. Hygienic service station
Maintaining a hygienic kitchen is quite common for all caterers, but when things get a bit hurried, sometimes hygiene can slip in favour of fast service and the serving station takes the brunt of this negligence. However, it is essential to clean the surfaces often. Make sure all the dish cloths and tea towels being used are washed regularly. Keep clearing away fallen crumbs and spilled food and maintain a clean service station.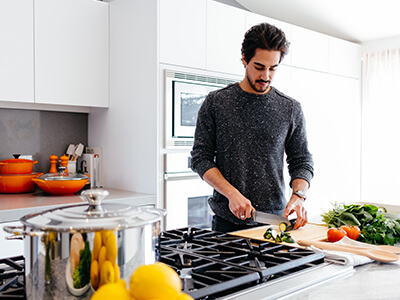 Soul Chef assures excellent food quality and flawless service to set exemplary and unbeatable standards in the catering industry in Mumbai. We hope to transform the approach to catering and ensure that each event by Soul Chef is an amazing experience for all our clients and guests.