Meals during office hours are generally about leaving the office to grab some fast food across the street or ordering a brown bag-packed lunch from a restaurant, if not from home. These fast-food lunches or packed meals are indeed fulfilling but not reliable for daily routine nor healthy up to mark. Nonetheless, these options are certainly the most preferred due to a lack of choice and options. However, with changing times and the emergence of diversified work cultures, several companies and businesses have changed their approach toward company catering. A widely preferred option that is making an impact in the business world; corporate catering services or corporate meals are emerging as the preferred options.
Rendering dining services from corporate caterers unfolds numerous benefits for both employees and employers. As a part of work dynamics, corporate catering service has gradually become an integral component that benefits employees and employers with improved productivity and efficiency. Apart from that, corporate meal plans are also ideal when looking forward to building a strong employee-employer relationship. It creates a healthy working environment, gives a break from boring routine food, and makes healthy dining options available for everyone.
Apart from making a variety of healthy food options available and accessible with ease for employees and associates, the corporate lunch box and meal system also expose the necessity for quality food regularly. These meals and lunch boxes by corporate caterers are not only healthy but also caters to the need for a cost-effective approach along with making delicious and nutritionally balanced meals available. As food is the primary factor that owns the ability to enhance the mood and boost productivity, the energy lies in the quality and flavour of the food dish served. Making flavoursome meals available for every craving, Soul Chef brings you the real deal you cannot turn down. Delivering the finest food dishes, we, as the top corporate catering service in Mumbai, bring you deliberately curated menu options for meals and corporate lunch boxes. With an option to choose the customized meal plan, we make getting the meals prepared and delivered at your workplace more accessible. With Soul Chef, we make it effortless for you to avail the luxury of having freshly prepared meals in the form of a lunch box whenever you want.
Leaping up in terms of healthy food and quality services, Soul Chef, offering one of the most reliable corporate catering services in Mumbai, is consciously making biodegradable packaging available for every lunch box. Health and hygiene are the essential parameters determining the effectiveness of every corporate caterer. Soul Chef pays profound attention to making every corporate lunch box and meal nutritionally valuable and taking care of the environment. Understanding the importance of green solutions and implementing it with every next move, we at Soul Chef deliver delicious lunch boxes with biodegradable packaging, taking our step towards a better tomorrow, one meal at a time.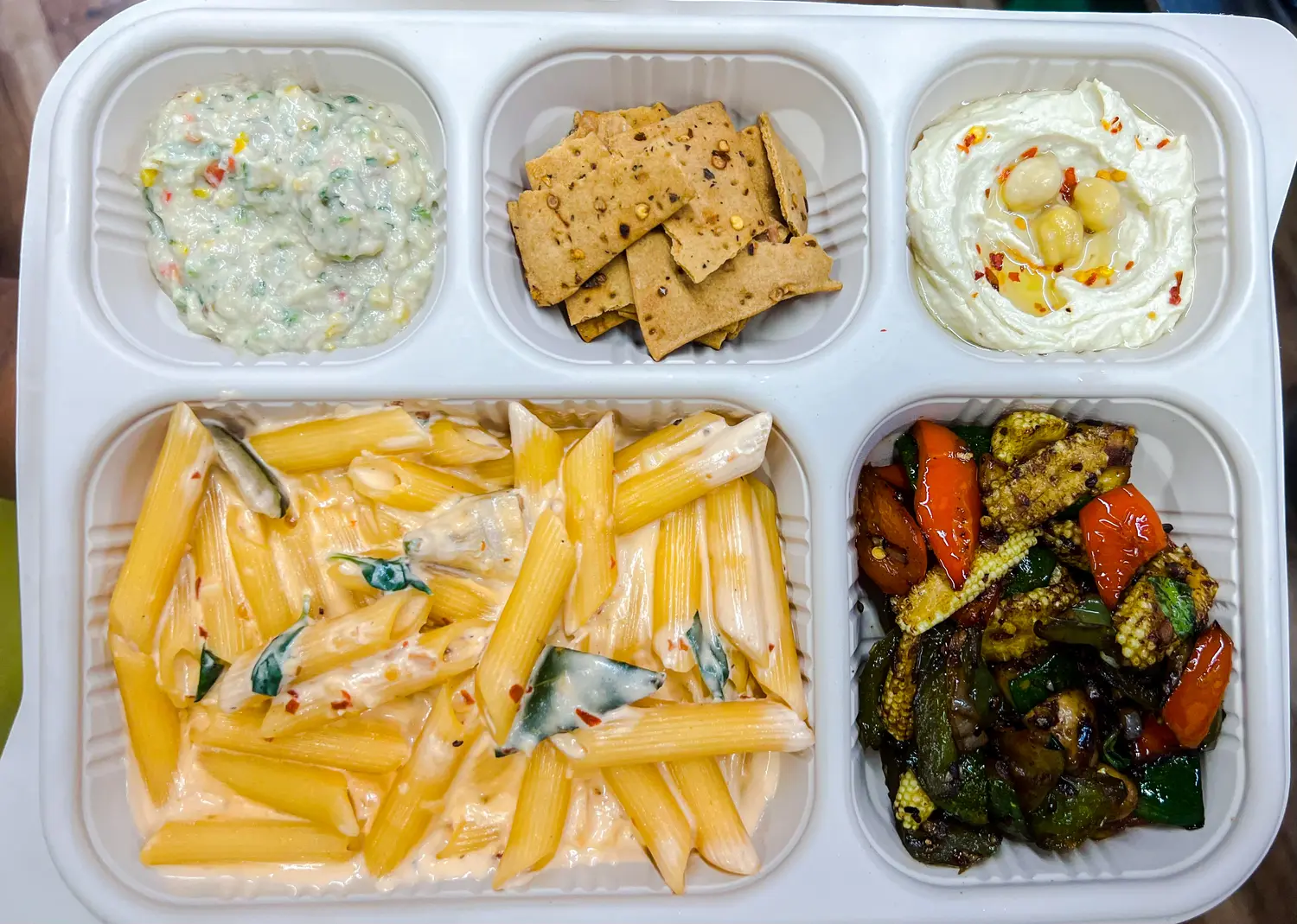 Enhance The Value Of Your Meals And Lunches With Soul Chef
With Soul Chef, enrich the everyday meal with nutritious ingredients and flavoursome taste that will make you await the lunch box every day. Enhancing the value of every meal served, our team of expert chefs with years of experience in making delicious food below their belt prepares flavourful cuisines ready to be served in the form of meals as a corporate lunch box. Besides the regular corporate catering services for the lunchbox and everyday meals, Soul Chef also adds value by making delicacies that help maintain a healthy, calorie-counted lifestyle. With years of experience in making worldwide famous and praised cuisines, we at Soul Chef offer every type of meal you want. Health-conscious diet in every meal, whether authentic Indian food, Thai, continental or Chinese food, Soul Chef brings to you the best of the world's flavour every day.
Along with making the meal rich with nutritious ingredients and healthy in all possible ways, we at Soul Chef also make it eco-friendly by incorporating biodegradable packing to ensure a guilt-free diet routine. With no harm to personal health, you can rest assured about the quality and enjoy every bit of the delicacies and delightful cuisines. With proven hospitality expertise, we leave no tables unturned to make the meal worth the value and effort and encourage productivity and efficiency with each bite of flavourful cuisines packed in the corporate lunch box.
Onboard Soul Chef as your corporate catering service partner and bring the quest of finding the perfect dining option to an end. Soul Chef, a premier catering services company in Mumbai, incorporates experience and expertise to bring top-notch food quality and flawless service to the table. Delivering every lunch box and meal with utmost care and precision, we work in compliance with industry standards and cater to the requirements of catering services across businesses. Offering the perfect blend of professional services and exceptional hospitality, we at Soul Chef believe in enhancing the food experience with healthy and mouth-watering food. With consistent efforts and leaving no stones unturned in making every meal a blissful one, we deliver unmatched services as corporate event caterers, and mocktail parties, with a refreshing menu for every type of corporate gathering.